---
Hello & Welcome!
---
---
What is Chico Locker & Sausage Co. Inc...?
Chico Locker & Sausage Co. Inc. is a unique meat buying experience unlike any other. We are located in the heart of the Northern California Valley in Chico, California. Family owned and operated since the beginning, we believe in not only creating quality products for our customers, but also providing our customers with education: where the cut came from, how it was made, and how to cook it. Owner David Dewey has over 45 years experience in the meat industry and is not afraid to share his knowledge with others. We are a full service butcher shop, retail meat market, and deli located in Chico, California.
If you live in the area or are visting, we invite you to come check us out and if you are already a customer, we thank you for supporting local business and our family for over four decades!
---
Our History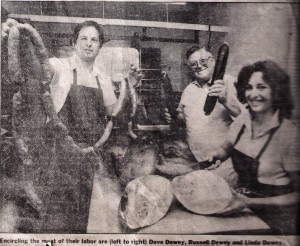 Chico Locker & Sausage Co. Inc. has been a Chico tradition for over 40 years. The business entered the Dewey family in 1965. In 1981 David Dewey and his wife Linda bought the company from David's father and our founder, Russell Dewey. The company has grown and changed a great deal over the years. What started out as a custom slaughter and processing plant has evolved to include a full service deli and sausage kitchen. Many of the products available are made right on the premises. Some of these specialties include: hams, bacon, smoked turkeys, fresh and smoked sausages, jerky, and marinated tri tips. Chico Locker & Sausage Co. Inc. has received national recognition for many of it is products as well as being inducted into the Cured Meats Hall of Fame by the American Association of Meat Processors. Today, Chico Locker continues to produce award winning products.
---
Our Aim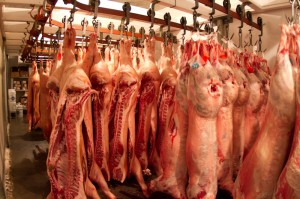 The aim of this website is not solely to promote Chico Locker & Sausage Co., but is to empower people in their meat choices. We strive to educate people about farm to fork: where their meat comes from, how it is raised, how its processed, and even how to cook it! We also aim to shed some light on an industry that has long had closed doors. We believe in transparency and do our best to provide that to our loyal customers and fans. If you're interested in learning more about where your meat comes from and how it's produced, please subscribe and follow along! We believe that being informed is the key to enjoying meat to its full potential.
---
Not Sure Where to Start...?
We strive to educate our customers on the ins and outs of our industry, feel free to check out Our Blog which talks about a variety of topics from beef, pork, bacon, food safety, and even includes some recipes!
To learn about cuts of pork and where they come from, visit our Where Do Your Pork Chops Come From? Post, want to know the truth about Hot Dogs…? Check out this post about how hot dogs really aren't anything to be afraid of! Or if you're looking to cook the Perfect Prime Rib for your Holiday, we've got you covered!
---
Services
Testimonials
"There isn't a better place to get a sandwich in town! It's just great.
The storefront is small, and fills up fast, but what do you expect when a place is this amazing!
As mentioned above, it can get crowded, and thus can have a bit of a wait, but the staff has always been respectful and hard working.
Their meats are fantastic as well. Recommended all around."
"Chico Locker and Sausage Co is a gem for the Butte County community. As a local cattle rancher, I value their on farm slaughtering and custom processing, it is an art form. The Dewey family goes out of their way to provide truly superior quality, service and expertise. They make themselves available to answer every question and concern I have regarding all facets of the pasture to plate process. The level of support and transparency they offer is unmatched. Their award winning meats and sausages are phenomenal; no other place in town offers such selection and service. I highly recommend Chico Locker for all of your meat related needs."
Chico Locker makes some of the best sandwiches ever! Fresh produce, nice bread & good quality meats & cheeses. All around they make some great sandwiches. I could seriously eat one every day. They have amazing bacon & sausages you can buy out of the deli case. And their tri tip you can make at home is so juicy & delicious! I also love their chorizo. It has great flavor. Such a cute little place with amazing & delicious products & meats. Try a sandwich or buy some of their meats for your next BBQ. You will be glad you did!
---